Nonprofits and IT: Lessons From Sysadmin Country
August 17, 2011
|
Varies
501 Tech NYC: Connect. Learn. Change the world!
Wednesday, August 17, 2011
6 – 7 p.m. Socializing
7 – 8 p.m. Discussion
Nonprofits need hardware, software, training, budgets and policies. And the person at the center of all that is often your friendly nonprofit systems administrator, or sysadmin. We need them, we love them, and we're inviting some of them to speak at our next event on August 17.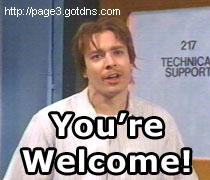 Many small nonprofits no longer have dedicated sysadmins. The functions they might have been in charge of are now distributed to other staff or outsourced. Kayza Kleinman and Nick Pytel will lead our next meeting, in a format we call 'Ask the Sysadmin.'
Questions already in the pipeline include:
What are relevant acceptable use policies for social media in the office?

What's new in cost-effective computing? What kind of equipment will be smartest nonprofits be using in 3-5 years?

How are we protecting data and passwords in 2012?

How is the job of nonprofit sysadmin changing?

What are the top five things sysadmins wish everyone knew?
If you have a question you'd like to see discussed, or an answer you want to present, send a note to 501techny@gmail.com or post on our Facebook Wall.
Who this is for:
Sysadmins working at nonprofit organizations, executive directors and COO's in charge of hardware and software, consultants who deliver IT services to nonprofits, staff at nonprofits who have to manage technology as part of their role.
Featured Guests:
Kayza Kleinman is director of the Information and Technology Department of the Jewish Community Council of Greater Coney Island (JCCGCI). Since joining the organization in 1988 she has overseen the growth and maintenance of the infrastructure needed to support JCCGCI's extensive service management and administrative needs, including design and implementation of systems to support client management, fiscal management and reporting to funding sources. She implemented the Department's technical assistance system. Kayza also supervises computer equipment maintenance and upgrade.
Kayza provides senior level technology consulting services to small to medium-sized nonprofits. Her services include designing and presenting workshops, conducting organizational needs assessments, installing hardware and software, writing custom software, training clients in computer usage and website development. 
Nicholas Pytel is a veteran IT Manager with fifteen years experience providing leadership, direction, and strategy to organizations.  Currently the IT Director of the New York Hotel Trades Council (nyhtc.org), he maintains a mac and windows network, Blackberry PDA's, data center, and 150 workstations.  During the last six years, he has twice upgraded the infrastructure (network, wireless, desktop, data and voice services).  He is an expert in IT procurement, asset management, vendor contracts, and disaster recovery planning.  
Mr. Pytel was formerly the director of RatTech, an organization that helped recycle computers (and other technology) and restore them to productive use.
Before moving to NYC, he was the owner of NPTS in Tallahassee, Fl – a technology consulting firm providing network topology design, hardware & software procurement and installation, and consulting services for small to midsize corporate clusters, individuals, and educational institutions. 
---
Have a question you'd like answered? Tweet with our hashtag #501TechNYC!
Space generously donated by


Stay in touch.
On Facebook? So are we! Join us there and be the first to know of upcoming events.
 Spread the word!
We welcome anyone interested in using technology for nonprofit and advocacy efforts.
Your co-organizers are:
Thomas Negron, Big Duck
Charles Lenchner, Organizing 2.0
Farra Trompeter, Big Duck